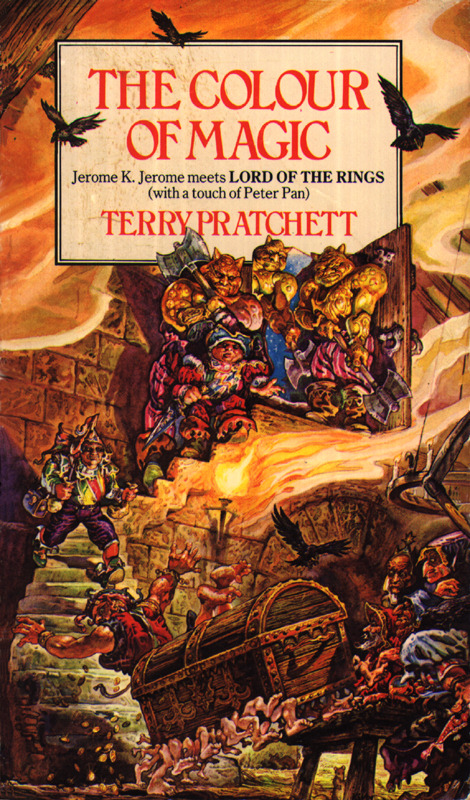 Terry Pratchett's books have been in the peripheral of my "to read" books for a long time. I didn't really grow up with him, so when he passed away, many of my friends were devastated (he's a national hero in Britain), but since at that moment I hadn't read any of his stuff, I didn't feel a connection to him since I hadn't read any of his books. But the devastation (which was on the level that I presume will be my devastation when JK Rowling eventually passes away) peaked my curiosity, and when Josh and I joined the library, I thought now would be a good time to read some of his stuff.
Currently I have not acquired book number 2 of the series, (though I've read you don't have to read them in order, however, I'm not sure if my OCD can handle that), which is the only downside of the public library. Lots of holds and a lot of waiting.
Nevertheless, I am really excited to read through the rest of the series. Before I read the book, some of the reviews praised the creation and the utilization of Discworld and how innovative Pratchett was with hatching out and exploring Discworld. As someone who enjoys world building, fantasy and science fiction, it's very easy to find patterns in how authors create these worlds based off of trends in the market place. Dystopian "the one" novels (Hunger Games, Divergent, etc.), suffering vampires (Anne Rice, Twilight, Vampire Academy, etc.), so on and so forth. Discworld does not follow trends and there seems to be nothing else like it, even now, even years after this was written.
I was under the grave assumption that Discworld was a YA novel, so therefore, I had to work harder to understand what the heck was going on in the first 20 pages than I had all of Rick Riordan's YA book series... and Hunger Games combined.
However, once I got the hang of Pratchett's style and wit, which is inherently British (and therefore, made bit a bit homesick for Britain), I thought it was creative and funny. The Color of Magic follows two characters, a failed wizard and the first tourist to ever come to Ankh-Morpork, Twoflower and Rincewind, the wizard who failed out of magic school and only knows 1 magic spell (that will essentially end the world if he ever utters it). The bumbling pair, one plagued by ineptitude and the other by FOMO, get into all kinds of shenanigans where they almost died, but also, see a lot of Discworld that either of them never seen before (Rincewind does not care to see it, but Twoflower is elated too).
It's colorful, inventive and Pratchett does not waste a word. Those who've read the other books in the series state that there are much better books, but this one is good. I was entertained and I can't wait to read the others.